Incredible features and benefits that you will love
Local area marketing has huge benefits to small and medium sized business.
By sponsoring your local medical centre you can develop a stronger relationship with their business.
Direct marketing
Marketing to thousands within your local community.
Guaranteed exclusivity
Stand out from your competitors as the only advertiser in your business category.
Return on investment
Our clients have given us constant positive feedback through local advertising.
Brand awareness
Increase your brand awareness and reputation.
Support your community
The sponsorship provides your local medical centre with free appointment cards supporting your community.
Professional design
Your advertisement will be designed by our in-house team of graphic designers.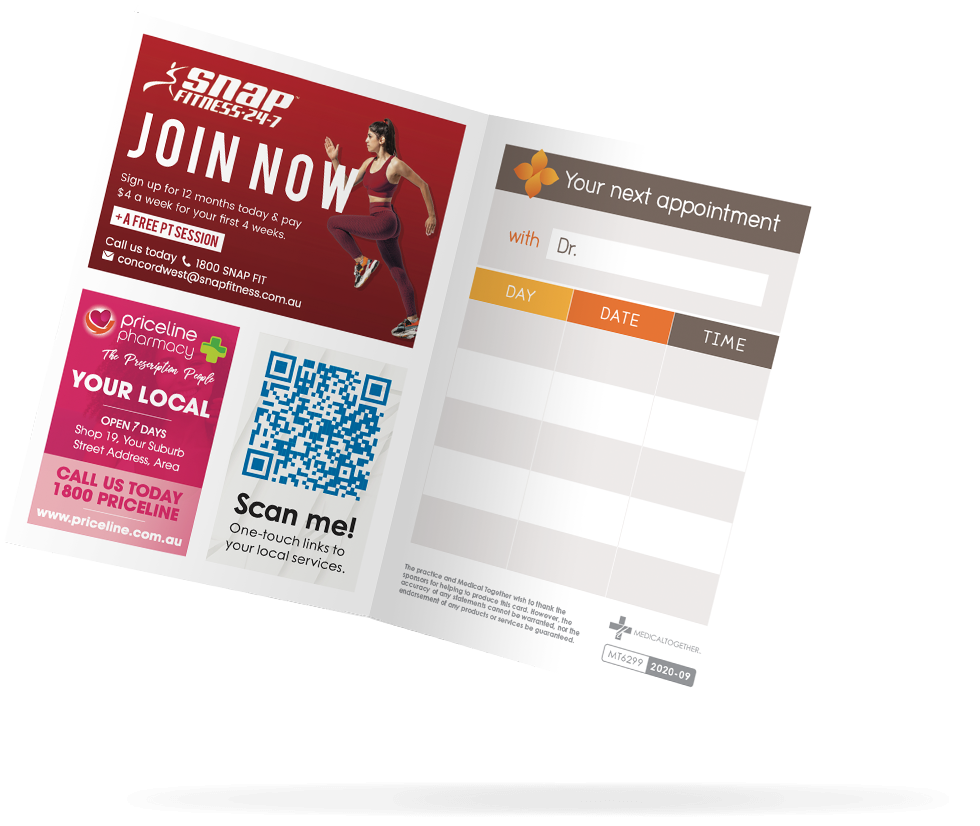 Medical Appointment Cards
Printed feature
We will feature your category of business directly the medical centres appointment cards. It is direct local advertising for your target market on a personal level!
Medical appointment card sponsorship is a cost effective and reliable form of advertising.
What's included
Guaranteed exclusivity for your category of business on the appointment cards.
Design of your feature by one of our in-house graphic designers.
Direct local advertising for your target market.
QR Code link to your feature on the medical website or landing page with click to call.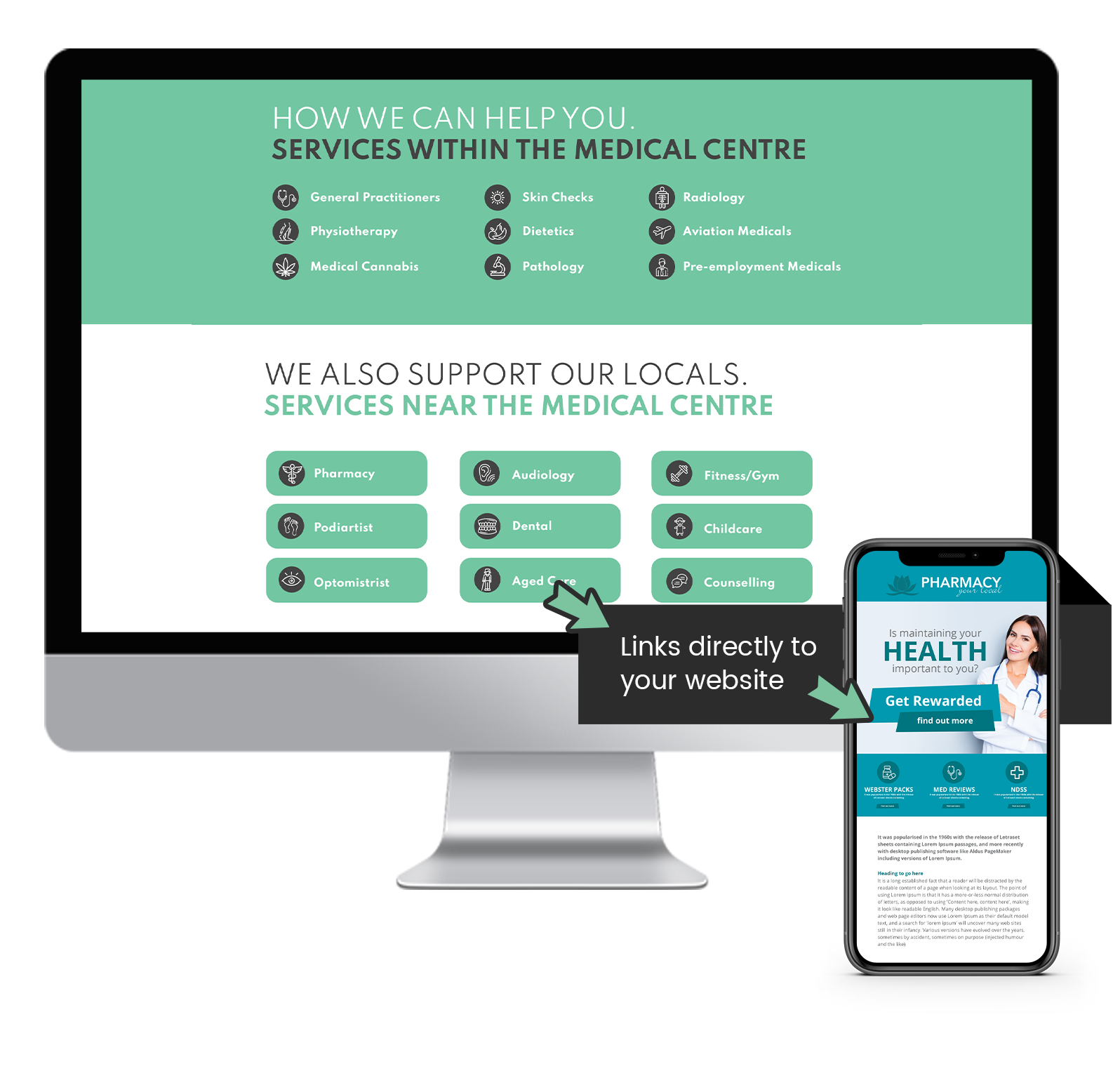 Medical Centre Website
Home page feature
We will feature your category of business directly on the home page. If a patient is looking for your service they can click on the service, which will then link to your website or a custom designed landing page, allowing you to increase your leads.
What's included
Guaranteed exclusivity for the category of business on the home page
You will be provided with a back link on the homepage, which when clicked on, opens another tab with your website or specially designed landing page toconvert leads.
Why are back links important?
Backlinks are especially valuable for SEO because they represent a "vote of confidence" from one site to another. In essence, backlinks to your website are a signal to search engines that others vouch for your content.
A link from a local medical centre website is a high quality link for your business as you are in a related field.
Medical Centre Website
Services page feature
Feature on the services tab where you get your own section on the page to talk about your services, opening times and patients can call you directly from their mobile and link through to your website.
What's included?
Business name
Business description
Business address
Click to call
Click through to your website or landing page
Opening and operating times.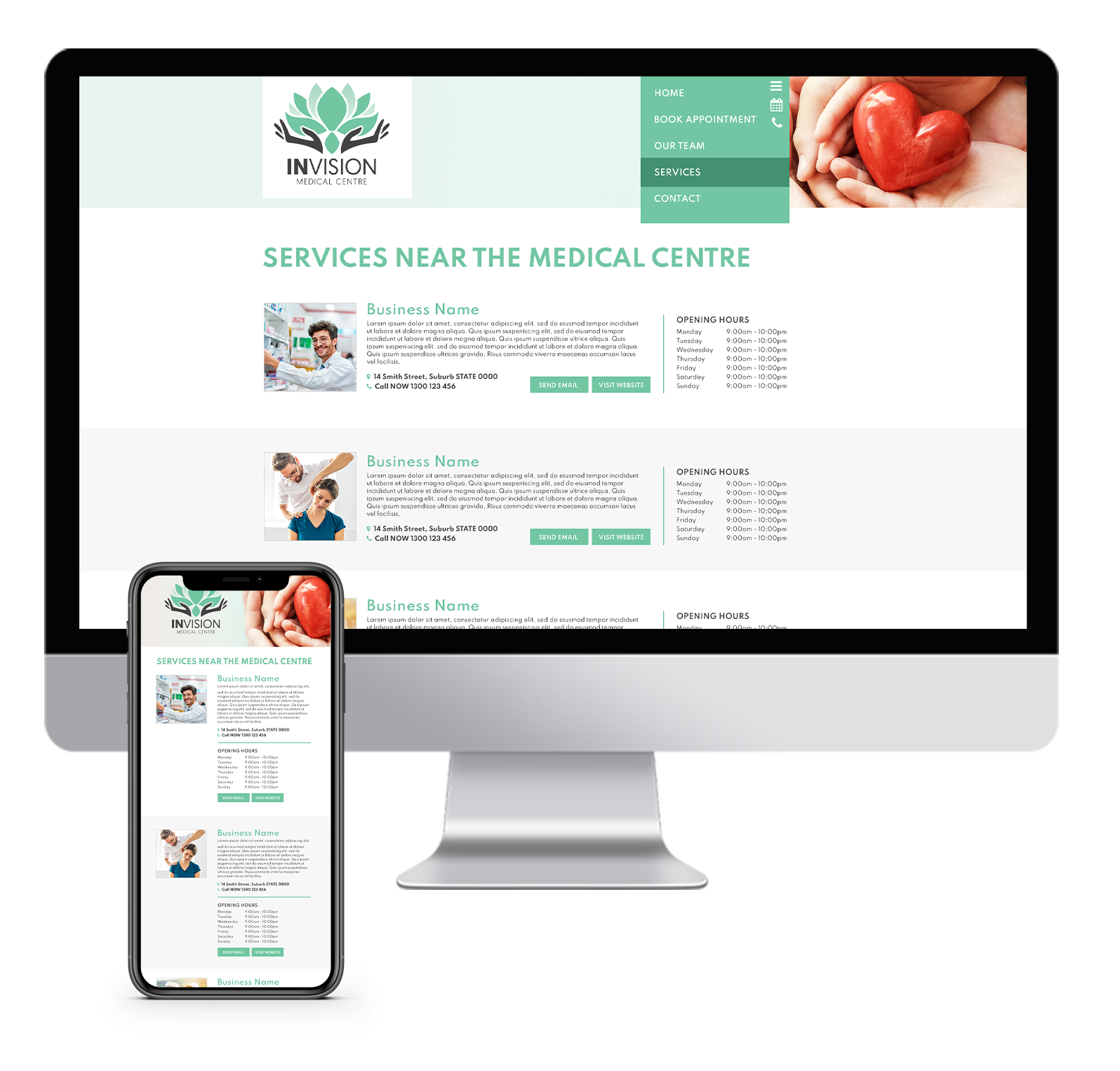 Support your local medical centre
Bridging the gap between local businesses and their communities
Medical centre website home page feature
+ services page feature
+ appointment card feature
Don't have a landing page or website?
Get the best results from their website advertising and branding campaign.
Our team includes website developers and marketing specialists. If your business doesn't currently have a website, we can design and build a professional website or a landing page bundled together with your medical centre sponsorship.